August 27, 1998
Dear Associate Member:
HACCP Yellow Pages Update!
NMA has published the first edition of the NMA HACCP Yellow Pages! Over 100 booklets were distributed in its first week to meat and poultry plants implementing HACCP.
If you are not yet listed, there is still time! Call today and be part of the 2nd Edition HACCP Yellow Pages!
Over 3000 federally inspected meat and poultry plants are expected to implement HACCP by January 25, 1999.
Many of these plants need HACCP related products and services to help them meet this deadline.
The products and services you provide may be just what they are looking for.
This is an opportunity for you to alert firms of your HACCP related products or services.
Advertise
today in NMA's HACCP Yellow Pages.
r

Yes! Include my company in the NMA HACCP YellowPages!

Member Company

Address

City ST ZIP

Phone Fax

Website e-mail

Contact Person

Headings (Check one or more)

r

Advisory/ Consultant Services r Laboratory Testing r Sanitation Equipment

r

Auditing r Process Validation r Training

r

Publications r Recordkeeping Systems r Videos

r

Computer Software r Sanitation Supplies

Method of Payment:

r Visa r MasterCard r Check Enclosed

Card # Amount Enclosed: ($25.00 x (# of headings))

Signature

Exp. Date =
---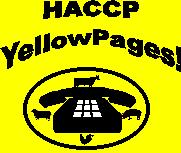 Return this form by fax to NMA at (510) 763-6186 attention Teresa Frey . All entries must be received no later than close of business, October 1 , 1998. Thank you!
For only $25.00 you get your company's name address, phone number, fax number, website and contact name listed under the HACCP heading of your choice. There will be an additional $25.00 charge per multiple listings.
The 2nd Edition HACCP Yellow Pages will also appear on line as the "Virtual HACCP Pages." The Virtual HACCP Yellow Pages will include all the information of he present edtion. PLUS hyperlink your company's website and e-mail!
Instant e-mail and website link to your company's HACCP products and services!